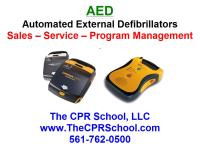 The CPR School recently delivered an Automated External Defibrillator – AED to a manufacturing company in Fort Myers, Florida (Lee County FL). We also conducted the CPR AED and First Aid Safety training classes for their staff at their Fort Myers offices. Our classes are more than your typical "press press blow" CPR class. During the class we discussed many medical emergencies that are present in the manufacturing industry, how to avoid accidents and how to perform first aid when injuries occur.

What is an AED and how does it work?
An Automated External Defibrillator or AED is a portable, battery operated electronic device about the size of a laptop computer. The AED automatically diagnoses the potentially life threatening cardiac arrhythmias of ventricular fibrillation and ventricular tachycardia in a victim and is able to treat the patient by an electrical shock which stops the arrhythmia, allowing the heart to re-establish an effective rhythm. AEDs are designed to be simple so that anyone can use one. So simple that I often start my classes by selecting someone from the class that has never seen an AED and I ask them to demonstrate how to use an AED by following the AEDs voice instructions. To date, the youngest person to effectively demonstrate the AED in one of my classes was 9 years old.

Why do we need an AED? Can't we just dial 911 and wait for emergency medical personnel?
According to the American Heart Association, more than 325,000 people die each year from Sudden Cardiac Arrest (SCA). Without the AED the chances of surviving Sudden Cardiac Arrest (SCA) outside of a hospital setting are very small – less than 5%. However, if the AED is applied to the victim quickly their odds increase to about 70% - 90%. Besides from the obvious benefit of saving a life, you may also be able to avoid costly litigation. Numerous law firms are now going after business owners that do not have AEDs where an employee or customer died from sudden cardiac arrest. Sudden cardiac arrest, which is the leading cause of death in the United States kills more people than breast cancer, lung cancer, and AIDS combined. Currently 95 percent of all cardiac arrest victims die.

How much does an Automated External Defibrillator cost?
AEDs or Automated External Defibrillators range in price from about $1200 up to about $1700. In addition to the AED you will also want a wall mounted alarmed cabinet to prevent theft and to make the AED easy to find in the event of an emergency. AED cabinets range from $195 to $400 depending on the quality of the cabinet. Although AEDs are not inexpensive it is invaluable if it saves your life or the life of a friend, family member, customer or coworker. Please note - buying a used AED or buying an AED from a salesperson that has little or no knowledge about the AED is never a good idea. These are life saving devices – if they fail, your patient dies. Talk to an expert that has actual hands on experience using AEDs, not a telemarketer with no real world knowledge or experience.

Does The CPR School sell AEDs?
Yes, and we will beat any advertised price on new AEDs. We also offer discounted package deals on AEDs, AED Cabinets and CPR AED First Aid Training. Contact The CPR School at 877-6-AED-CPR or 561.762.0500.

What do you mean by AED package?
You are planning to purchase a life saving device so it is very important you have all of the facts and understand what you are purchasing. Our AED package will include the Automated External Defibrillator (AED), Medical Authorization (prescription), rescue ready kit with razor, trauma shears, mask and gloves, AED alarmed cabinet, sign for above the AED and CPR AED training for your staff.

Once I buy the AED package is there anything else I need to purchase?
Assuming that one (1) AED is adequate for the size of your facility the above package should be everything you need. Larger facilities will require additional AEDs. For larger companies you may also require additional training classes for your staff.


Who should purchase an AED?
Automated External Defibrillators (AEDs) are becoming more popular and can be found in many public places. FAA regulations require commercial aircraft that fly passengers to have AEDs on board. In Florida dental offices are required by law to have AEDs as are public schools. You will also find AEDs at many restaurants, health clubs, hotels, casinos, golf courses and country clubs, cruise ships, sports stadiums, malls, condo and homeowners associations, movie theaters and a variety of other locations.

What are the benefits of owning an AED?
Without the AED the chances of surviving Sudden Cardiac Arrest (SCA) outside of a hospital setting are very small – less than 5%. However, if the AED is applied to the victim quickly their odds increase to about 70% - 90%.

Why do you need an AED program in the workplace?
Sudden Cardiac Arrest accounts for 13% of on-the-job fatalities. OSHA has indicated the importance of AEDs and encourages the use of these live saving devices in the workplace. With the cost of AEDs starting at just $1,200 it's a small price to pay for saving a life.

What does OSHA indicate about AEDs?
"Because the use of Automated External Defibrillators (AEDs) can save the lives of workers who experience cardiac arrest while on the job, OSHA today encouraged employers to consider making this equipment available in their workplace."
- US Department of Labor, Office of Public Affairs, Dec. 17, 2001

What about Federal Laws regarding the use of AEDs?
The Cardiac Arrest Survival Act (CASA) of 2000 is our nation's first legislation recognizing the lifesaving role played by automated external defibrillators (AEDs). The law highlights the need to make AEDs accessible to anyone who has had proper training, not just professional medical personnel. The law protects trained AED users from liability, and also protects any person who has maintained the device, provided training, tested the device or acquired it. The law also augments existing state "Good Samaritan" laws by ensuring federal liability protection for trained users and purchasers of AEDs.

Liability - Am I safer with or without an AED?
Florida is a very litigious state. Attorneys are advertising everywhere and many people view filing lawsuits as hitting the lottery. But not having an AED may put you at greater than owning one. The increasing number of AEDs in public places, coupled with the fact that AEDS dramatically increase cardiac arrest survival rates may establish a standard of care. If the property down the road has an AED program in place to save lives, why doesn't your property offer the same protection?

Signed into federal law in 2000, the Cardiac Arrest Survival Act (CASA) provides limited immunity from civil liability for those who acquire or use an AED if the state has not otherwise granted immunity for such persons under other statutes.

Think of buying an AED as buying insurance. The AED may help save a life and it should keep the lawyers away. If an employee or customer dies from sudden cardiac arrest you will spend at least $25,000 defending this action – plus bad publicity. If you save someone's life with the AED you should avoid lawsuits and bad PR. Makes the AED sound like a bargain doesn't it.

Will my health insurance cover an Automated External Defibrillator or AED?
There are some medical conditions that may meet the criteria for medical necessity for an Automated External Defibrillator. If a physician determines that the Automated External Defibrillator is medically necessary, a letter written on the physician's letterhead may help an insurance carrier or other payer to understand the patient's situation. Please note - Due to the wide range of health insurance policies and patient conditions, The CPR School cannot guarantee that an insurance company will cover or pay for your AED. Please contact your health insurance company.

How many companies make AEDs?
There are six companies that are actively selling AEDs in the Florida market. The AED companies are Medtronic Physio Control, Cardiac Science, Defibtech, Heartsine, Philips and Zoll. Please note all AEDs operate in a similar manner. The analogy I give my students is Ford vs. General Motors. If you know how to drive a Ford you are also able to drive a GM vehicle.

We already own an AED – do you sell batteries and electrode pads?
Yes, if your AED needs a new battery or AED electrode pads we sell these. We can also test and inspect your AED, upgrade your AED software to the new AHA guidelines and if you wish to purchase a new make and model AED you can trade the old AED in for a new one.

We sell AED batteries and AED electrodes pads for you AED. Medtronic Physio Control CR Plus Charge-Pak 3201616-002, Medronic Physi Control Battery Pak 3005380-026, Cardiac Science Powerheart G3 Battery 9146-001, Powerheart Adult Pads 9131-001, Heartsine Samaritan Battery and Pad (PadPak) Pad-Pak-01, Defibtech Lifeline AED Battery DCF-200, Defibtech AED Adult Pads Electrodes DDP-100, Philips OnSite Adult Smart Pads M5071A, Philips OnSite Pediatric/Child Smart Pads M5072A, Philips OnSite frx Standard Battery M5070A, Philips FRX Smart Pads II 989803139261, Philips FR2 Adult Defibrillator Pads 989803158211, Zoll AED Plus CPR-D Padz 8900-0800-01, Zoll AED Plus Pedi-Padz II 8900-0810-01 and Welch Allyn.


Money is tight, why not buy the cheapest Automated External Defibrillator (AED) available?
When it comes to life saving devices never cut corners. Would you bargain shop for the cheapest heart surgeon? Would you buy the cheapest parachute if you were skydiving? The answer to both is no. Make certain you purchase a quality AED from a distributor and manufacturer that has been around a while and appears to be financially sound. Do not risk buying from a manufacturer that may go out of business like AccessCardio, which closed its doors several years ago leaving the AED owners with useless junk that will no longer functio

Can we trade our old AEDs in for new AEDs?
Yes, we take trade-ins. Your older AEDs can be used as a credit towards the purchase of new AEDs. On occasion we also purchase pre-owned, good condition AEDs. Please contact us if you have older AEDs and we will let you know their value.

What are the steps to using an AED and is it complicated?
If someone collapses the rescuer should check the victim to see if they are responsive. If they do not respond, immediately send someone to dial 911 (radio for help) and send another person to get the AED. Next, we tilt the victims head back and check for breathing. If after 10 seconds you do not see the victim's chest rise, hear breathing or feel the victims breath against your face, you should begin CPR chest compressions. You will continue performing chest compressions until the AED arrives, its turned on, electrode pads connected and the AED gives an "all clear" message. At this point move away from the patient so that they AED can analyze the patient.

Once connected to the victim the AEDs typically gives either a "shock advised" message or a "no shock advised" message. If the AED indicates "shock advised" we must make certain no one is touching the patient and then deliver a shock. Typically this means pressing the flashing red shock button. If the AED indicates "no shock advised" this can mean one of 2 things. Either the victim is alive or that you should begin CPR. Check once again for breathing, if they are breathing put the victim in the recovery position (on their side). If they are not breathing start CPR – keep the AED connected and turned on with the pads in place. 2 minutes later the AED will once again check the victim.

Do I still need to perform CPR with an AED?
Yes. CPR is very important and can greatly improve the victim's chance of survival. You should perform CPR until the AED arrives. Once the AED arrives, turn it on and apply the AED pads to the victims bare chest and follow the AED voice prompts.

If defibrillation is so important, why should I perform CPR?
CPR helps circulate oxygen rich blood to the victim's heart and brain. This circulation delays both brain death and the death of heart muscle. CPR buys us time until the AED arrives and CPR also makes the heart more likely to respond to defibrillation.

How often will the AED shock someone?
AEDs programmed with the current CPR guidelines analyze the victim every 2 minutes. This means that the AED could potentially deliver a shock once every 2 minutes. The AED may not shock every time. Each time the AED analyzes the victim it determines if a shock is necessary.

Can I hurt the victim with the AED?
No. AEDs are designed to only shock someone in cardiac arrest. You can only help.

Can the AED hurt the rescuer if used improperly?
If you are touching the victim while a shock is being delivered this is possible. Always make certain that no one is touching the victim before the shock is delivered.

Can AEDs be used to treat children?
Yes, for children ages in cardiac arrest AEDs with pediatric pads or a pediatric key should be used. If an AED with pediatric capabilities is not available, a standard AED may be used. Please note – if children are present at your business you should have the right tool for the job. Purchase pediatric AED electrode pads.

What if the victim has a medication patch?
Never place electrodes directly on top of medication patches. If the patch is in the way of the AED electrode pads, remove it and wipe off the area. Avoid touching the medication patch with your bare hands. Most AED rescue ready kits have medical exam gloves, you should use them when possible.

What if the victim has an implanted pacemaker or defibrillator?
If the victim has a pacemaker or internal defibrillator you should try to avoid placing the electrode pad directly on top of the device. If you see a raised bump under the skin about the size of a silver dollar and it's located where your pad should be, move the pad up slightly higher than this device.

Should I remove the AED electrode pads before doing chest compressions?
No. The pads should only be removed by the paramedics of the doctors. Keep the pads in place and the AED turned on until Emergency Medical Personnel take over patient care. As long as the pads are in their correct locations on the victims chest, they will not interfere with chest compressions.

Should I take off the patient's clothing before using the AED?
The chest should be exposed to allow placement of the AED electrode pads. A woman's bra should be removed and all necklaces and chains should be moved out of the way. You may need to cut off clothing to save time.

Can I place the AED electrode pads directly on a hairy chest?
The AED electrode pads must be placed directly on clean, dry skin. If the chest is hairy it may prevent good adhesion of the electrode pads. If there is a lot of hair you must quickly shave them. If the chest is wet or oily, quickly dry it. Please note – only the areas where the pads are to be placed must be shaved or dried.

Can AEDs be used to treat a heart attack or chest pain?
No, AEDs should only be placed on someone that is in cardiac arrest. This means they are basically dead, they are not breathing. Placing an AED on a live person will only increase their anxiety with no benefit.

After I successfully defibrillate the patient and they are breathing should I keep the AED on the patient?
Yes. Keep the pads in place and the AED turned on until Emergency Medical Personnel take over patient care. The patient is still at risk of going back into cardiac arrest. The AED will continue to monitor them.

Can anyone teach CPR AED and First Aid?
This is a common mistake I often see. In an effort to reduce costs, managers either go with the low bid or attempt to do the training in house. You should never cut costs on life saving training or life saving equipment. Would you have your maintenance man install your fire suppression system? Would you have human resources test and inspect your fire extinguishers? The answer is no, you would not. Both fire suppression systems and fire extinguishers are designed to save property. CPR AED and first aid classes are designed to save lives. Given the choice between saving lives or saving property, which in your opinion is more important and which do you think could result in the greatest liability? Make certain your instructor is a full time instructor that has actually performed CPR and used AEDs in real life on real people. Having people teach CPR that have never done CPR on real people is like taking swimming lessons from a guy that has never really been in the pool before. Bottom line – always hire a full time professional.

What sets us apart from the others
1.) Our lead instructor is a Florida licensed EMT and holds a Florida 220 license (Insurance - Risk Management).
2.) We carry $2,000,000.00 in liability insurance to protect our clients.
3.) A major difference, our instructors have actually performed CPR, First Aid and used AEDs on real people. Not all instructors have real world CPR First Aid AED experience. Many simply read about CPR and First Aid in a book. We believe real world experience makes for a better instructor and believe you will too.
4.) Our CPR AED and First Aid Safety classes are both educational and fun. Our philosophy is that learning should be fun. We feel that if you have fun, laugh and the CPR class is interesting you will enjoy yourself and will absorb and retain the material better.

What about online CPR AED training classes?
Would you trust a heart surgeon that received his medical degree online? How about your dentist? The answer is obviously no. Like most medical classes, CPR AED is a hands on life saving skill and you need hands on training with real live interaction and exchange of information, lots of Q&A between a real instructor and real students. I do not recommend online CPR AED training believe that there is no substitute for real face to face training with a full time, professional instructor.

Keith Murray, owner of The CPR School in Jupiter Florida adds, "The AED that you purchase might save your life. Make certain that everyone who as access to the AED has been properly trained by a skilled instructor that has actually used CPR and AEDs in real life saving situations." Murray, a Florida firefighter EMT recently used an AED in the Atlanta airport to save a travelers life. The victim went into cardiac arrest, one of the passengers started CPR compressions, another rescue breathing, and Murray turned on the Medtronic Physio Control AED, applied the pads to the patients chest, pressed the shock button and it worked. The patient started breathing and is alive today because of the quick use of an AED.

Keith Murray is a licensed Florida EMT Firefighter who hold a masters degree and both the Florida 220 and 215 insurance licenses. Mr. Murray consults with businesses and risk and safety managers throughout the United States and the Caribbean regarding Automated External Defibrillators (AED), CPR AED and First Aid Safety Training Classes and other risk management issues.

The CPR School can help you every step of the process from A to Z. We start by helping you find the right make and model AED. Next we help you select the right location for the AED. Then we train your staff how to use the AED. Then we train your staff how to properly maintain and inspect the AED. And finally, if you use the AED we help you download the event data and get the defibrillator back into service. Automated external defibrillator sales, AED Program Management, AED Maintenance, AED Batteries and AED Electrode Pads, Onsite CPR, AED First Aid Safety training classes at your Florida business. Contact The CPR School at 877-6-AED-CPR or 877-623-3277

The information above is for informational purposes only. It is not a substitute for professional classroom instruction by a qualified instructor with real CPR AED experience. At minimum you should take a refresher course every 2 years.

Lake County Florida AED Defibrillator Sales & CPR AED Training– Town of Astatula, City of Clermont, City of Eustis, City of Fruitland Park, City of Groveland, Town of Howey-in-the-Hills, Town of Lady Lake, City of Leesburg, City of Mascotte, City of Minneola, Town of Montverde, City of Mount Dora, City of Tavares, City of Umatilla
Polk County Florida AED Defibrillator Sales & CPR AED Training- City of Auburndale, City of Bartow, City of Davenport, Town of Dundee, City of Eagle Lake, City of Fort Meade, City of Frostproof, City of Haines City, Village of Highland Park, Town of Hillcrest Heights, City of Lake Alfred, Town of Lake Hamilton, City of Lakeland, City of Lake Wales, City of Mulberry, Town of Polk City, City of Winter Haven
Lee County Florida AED Defibrillator Sales & CPR AED Training- Bonita Springs, Cape Coral, Fort Myers, Fort Myers Beach, Sanibel
Hendry County Florida AED Defibrillator Sales & CPR AED Training- Clewiston , Harlem, LaBelle, Port La Belle, Felda.
Collier County Florida AED Defibrillator Sales & CPR AED Training- Everglades City, Marco Island, Naples
Charlotte County Florida AED Defibrillator Sales & CPR AED Training– Boca Grande, Cape Haze, Charlotte Harbor, Charlotte Park, Cleveland, Deep Creek, Englewood, Grove City, Harbour Heights, Manasota Key, Murdock, Placida, Port Charlotte, Punta Gorda, Rotonda, Solana
Sarasota County Florida AED Defibrillator Sales & CPR AED Training– Sarasota, North Port, Venice, Longboat Key
Manatee County Florida AED Defibrillator Sales & CPR AED Training- Anna Maria, Bradenton, Bradenton Beach, Holmes Beach, Longboat Key, Palmetto
Hillsborough County Florida AED Defibrillator Sales & CPR AED Training- Plant City, Tampa, Temple Terrace
Pinellas County Florida AED Defibrillator Sales & CPR AED Training- Belleair, Belleair Beach, Belleair Bluffs, Belleair Shore, Clearwater, Dunedin, Gulfport, Indian Rocks Beach, Indian Shores, Kenneth City , Largo, Madeira Beach, North Redington Beach , Oldsmar, Pinellas Park , Redington Beach , Redington Shores, Safety Harbor , Seminole, South Pasadena, St. Pete Beach , St. Petersburg, Tarpon Springs, Treasure Island
Pasco County Florida AED Defibrillator Sales & CPR AED Training- City of Dade City, City of New Port Richey City of Port Richey, City of San Antonio, Town of St. Leo, City of Zephyrhills
Monroe County Florida AED Defibrillator Sales & CPR AED Training- Key West, Marathon, Key Colony Beach, Layton, Islamorada, Stock Island, Big Coppitt Key, Cudjoe Key, Big Pine Key, Duck Key, Tavernier, Key Largo, North Key Largo, Flamingo, Bay Point, Sugarloaf Shores