Fort Myers Florida golfers are dying from cardiac arrest on Lee County golf courses– some golfers are saved but the large majority die – about 95%. In the United States sudden cardiac arrest claims about 340,000 lives each year – or around 930 every day according to the American Heart Association.

Sudden cardiac arrest is the leading cause of death on the golf course. This is true for many reasons including the average age of golfers is typically higher than other sports. It is also due to time and distance. When dealing with cardiac arrest, a few minutes can be the difference between life and death. For a victim experiencing sudden cardiac arrest, for each minute that passes without defibrillation the victims chances of survival decrease by about 10 percent. From the time of collapse, if it takes someone from the clubhouse 5 minutes to reach the victim with an AED – the victims odds of survival have decreased 50%.

Here are a few questions to ask yourself about sudden cardiac arrest and the Lee County golf course you play or work for.
1. Standing at the farthest point on the course, if you suddenly collapsed in cardiac arrest who would get help? How will they get help – cell phone or run for help?
2. Which golf employee will most likely respond first?
3. What equipment will they bring with them?
4. What is their level of training? How long since their last CPR and First Aid class?
5. How long will it take the ambulance to reach the golf course?
6. How long will it take the ambulance to reach the injured golfer?

In the questions above we talked about calling for help. It is quite possible that even if you have a cell phone, you may not have a usable cell signal on the golf course. If this is the case, you may need to send someone to get help. But even if you do have a cell phone and it works, who are you calling, the club house, 911 or both?

My company, The CPR School, LLC works with Fort Myers Florida area golf courses and country clubs setting up CPR AED and First Aid Safety programs. When hired by a golf club we typically walk the course, talk to the employees and study the area. There is a lot more to our CPR AED and First Aid programs than a typical press press blow CPR class. We do more than teach classes and AED sales. We look at all risks and look for cost effective solutions to minimize these risks. Our goal is to increase the safety of the members and the staff while decreasing the clubs potential liability.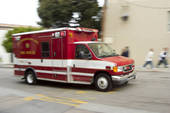 Why do we need training, can't we just dial 911 and wait for Lee County Fire Rescue EMS (emergency medical personnel)?
Sudden cardiac arrest, which is the leading cause of death in the United States kills more people than breast cancer, lung cancer, and AIDS combined. Currently 95 percent of all cardiac arrest victims die. Without quick action, your victim will almost certainly die. A person in cardiac arrest can;t wait until Fire Rescue arrives - most often a dealy of more than a few minutes is fatal.

Can anyone teach CPR AED and First Aid?
This is a common mistake I often see. In an effort to reduce costs, managers either go with the low bid or attempt to do the training in house. You should never cut costs on life saving training or life saving equipment. Would you have your maintenance man install your fire suppression system? Would you have human resources test and inspect your fire extinguishers? The answer is no, you would not. Both fire suppression systems and fire extinguishers are designed to save property. CPR AED and first aid classes are designed to save lives. Given the choice between saving lives or saving property, which in your opinion is more important and which do you think could result in the greatest liability? Make certain your instructor is a full time instructor that has actually performed CPR and used AEDs in real life on real people. Having people teach CPR that have never done CPR on real people is like taking golfing lessons from a guy that has never really played golf before. Bottom line – always hire a full time professional.

Who should be CPR AED and First Aid Certified?
Everyone is my answer. Training should include the golf-course superintendent, the club managers, the rangers, starters, the golf pro, golf pro assistants, food and beverage managers, greenskeepers, caddies, and all clubhouse staff.

Should we offer CPR and AED class for our golf members?
Yes, often the golfers are the first to witness a medical emergency. When the golfers know what to do, who to call, and how to perform CPR until help arrives it can double the victims chance of survival.

Which club employee will most likely respond first?
Most often it will be the golf ranger. A golf ranger patrols the golf course to prevent unauthorized persons from using facilities, keep play running smoothly, and assist injured or ill players. The ranger also renders first aid to injured or ill players.

The above job description for a golf ranger mentions assisting and treating injured golfers. But how well is the golf ranger trained and equipped? Does the ranger have the proper training to recognize and treat a life threatening medical emergency and if so, does the ranger have the right medical equipment to assist? You should ask these questions next time you are on the golf course. If you do not like the answer you get, please print a copy of this article and share it with management.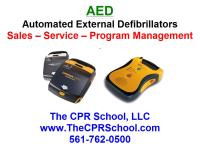 What medical equipment should be on the golf rangers cart?
The golf ranger and all golf employees rendering first aid assistance should have the proper PPE - personal protective equipment to protect themselves from bloodborne pathogens. PPE will include safety glasses, medical exam gloves and a CPR mask. The first aid kit should include all of the basics including bandages, cold packs, and other items commonly found in a basic first aid kit and most importantly, there should be an Automated External Defibrillator (AED). All of these supplies, including the AED should be kept in a waterproof case kept on the rangers golf cart.

What is an Automated External Defibrillator - AED?
An Automated External Defibrillator or AED is a portable, battery operated electronic device about the size of a laptop computer. The AED automatically diagnoses the potentially life threatening cardiac arrhythmias of ventricular fibrillation and ventricular tachycardia in a victim and is able to treat the patient by an electrical shock which stops the arrhythmia, allowing the heart to re-establish an effective rhythm. AEDs are designed to be simple so that anyone can use one.

How much does an Automated External Defibrillator cost?
I just delivered an AED with a waterproof carry case to a customer last week. The cost delivered to the customer was just under $1,900. There are cheaper options but this customer wanted a good quality AED and did not want to cut corners on safety.

The CPR School is a mobile CPR AED and First Aid company. We travel to our Florida clients and talk with them about their safety needs. We perform an onsite safety survey and risk assessment, and decide how many AEDs are necessary, which type of AED is best, and conduct CPR AED and First Aid Safety Training certification classes for the golf course and club house staff. We work with our clients every step of the way from A through Z and are always professional and discreet.

For more information, to schedule a class or to purchase an Automated External Defibrillator or AED batteries and electrode pads please e-mail us at Keith@TheCPRSchool.com or call The CPR School at 561-762-0500

We teach CPR AED and First Aid all over Florida including:
Polk County Florida - City of Auburndale, City of Bartow, City of Davenport, Town of Dundee, City of Eagle Lake, City of Fort Meade, City of Frostproof, City of Haines City, Village of Highland Park, Town of Hillcrest Heights, City of Lake Alfred, Town of Lake Hamilton, City of Lakeland, City of Lake Wales, City of Mulberry, Town of Polk City, City of Winter Haven
Lee County Florida - Bonita Springs, Cape Coral, Fort Myers, Fort Myers Beach, Sanibel
Hendry County Florida - Clewiston , Harlem, LaBelle, Port La Belle, Felda.
Collier County Florida - Everglades City, Marco Island, Naples
Charlotte County Florida – Boca Grande, Cape Haze, Charlotte Harbor, Charlotte Park, Cleveland, Deep Creek, Englewood, Grove City, Harbour Heights, Manasota Key, Murdock, Placida, Port Charlotte, Punta Gorda, Rotonda, Solana
Sarasota County Florida – Sarasota, North Port, Venice, Longboat Key
Manatee County Florida - Anna Maria, Bradenton, Bradenton Beach, Holmes Beach, Longboat Key, Palmetto
Hillsborough County Florida - Plant City, Tampa, Temple Terrace
Pinellas County Florida - Belleair, Belleair Beach, Belleair Bluffs, Belleair Shore, Clearwater, Dunedin, Gulfport, Indian Rocks Beach, Indian Shores, Kenneth City , Largo, Madeira Beach, North Redington Beach , Oldsmar, Pinellas Park , Redington Beach , Redington Shores, Safety Harbor , Seminole, South Pasadena, St. Pete Beach , St. Petersburg, Tarpon Springs, Treasure Island
Pasco County Florida - City of Dade City, City of New Port Richey City of Port Richey, City of San Antonio, Town of St. Leo, City of Zephyrhills
Monroe County Florida - Key West, Marathon, Key Colony Beach, Layton, Islamorada, Stock Island, Big Coppitt Key, Cudjoe Key, Big Pine Key, Duck Key, Tavernier, Key Largo, North Key Largo, Flamingo, Bay Point, Sugarloaf Shores